25 Fun Halloween Party Games for Kids
Planning a Halloween Party or playdate for the kids this year?  Time to crank the fun up a few notches with these 25 amazing and crowd-pleasing, Halloween Party Games for Kids that are loads of fun! (updated with even more games for 2020)
If only a few hours of trick-or-treating, bucketloads of Halloween candy, and halloween costumes for kids were enough to keep your little monsters entertained on Halloween! Sigh—is that really too much to ask? Fear not, parents—we're here to help. We've rounded up some scary-good DIY Halloween games for kids to get ghouls of all ages in the party spirit and make this October 31 even more special, even if it looks a little different this year. Your celebrations will likely be a bit scaled down this year, but even if you're only entertaining your own kids (or if you're donning coronavirus Halloween face masks for a socially distant party), there's still time for fun.
Before you don your best family halloween costume ideas, why not set up a quick round of pumpkin bowling in the backyard? You could even host a traditional skeleton scavenger hunt—or plan a quick "ghost race" around the block. Even a faux spider relay race doesn't take long to assemble. Some of the games will double as classic outdoor halloween decorations.
If it's too cold to play outside or you're hosting a Halloween bash, you can have just as much fun indoors with DIY Halloween Twister, a pumpkin decorating contest, candy-filled pumpkin balloons that double as piñatas, or a spook-tacular round of pin the spider on the web. Some games tap into your little ones' analytical thinking skills, others can inspire some friendly competition, and the rest are just downright silly ways to pass the time and make everyone smile. If anything, you can definitely count on these handmade activities to help your candy-loaded kids burn off their Halloween treats before bedtime!
The best list of halloween party games for kids

25 Halloween Party game for kids
Mummy Sack Race Halloween
        This toilet paper game is budget-friendly (who doesn't have toilet paper) and loads of fun, it's sure to have everyone laughing like crazy! The way the game works, is you pit several teams of 3 (one mummy, 2 wrappers) against each other and team that finishes their roll of toilet paper first, wins!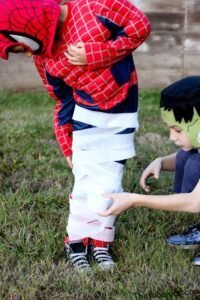 2. Donut Eating Race
If you've never participated in a donut eating race, you are missing out! You'll want to do a little "donut testing" beforehand to make sure you've got a sturdy donut, but it is a great game not only for Halloween parties but birthday parties too.  If you can get the adults to participate, your stomach will hurt from all the laughing, I promise!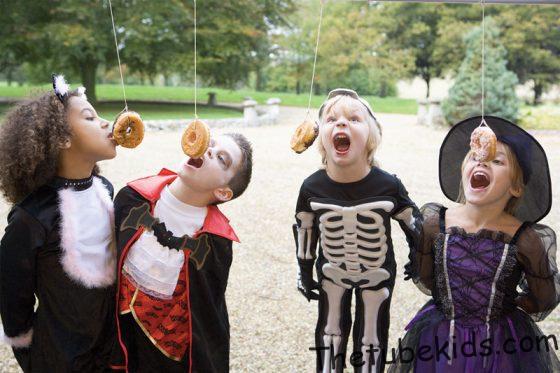 3. Pop Goes the Pumpkin Balloon Halloween Game
This game is a great one for the teenager to set up, just stuff the balloons with slips of paper that have prize names written on them to be claimed later. Find 5-inch orange balloons here.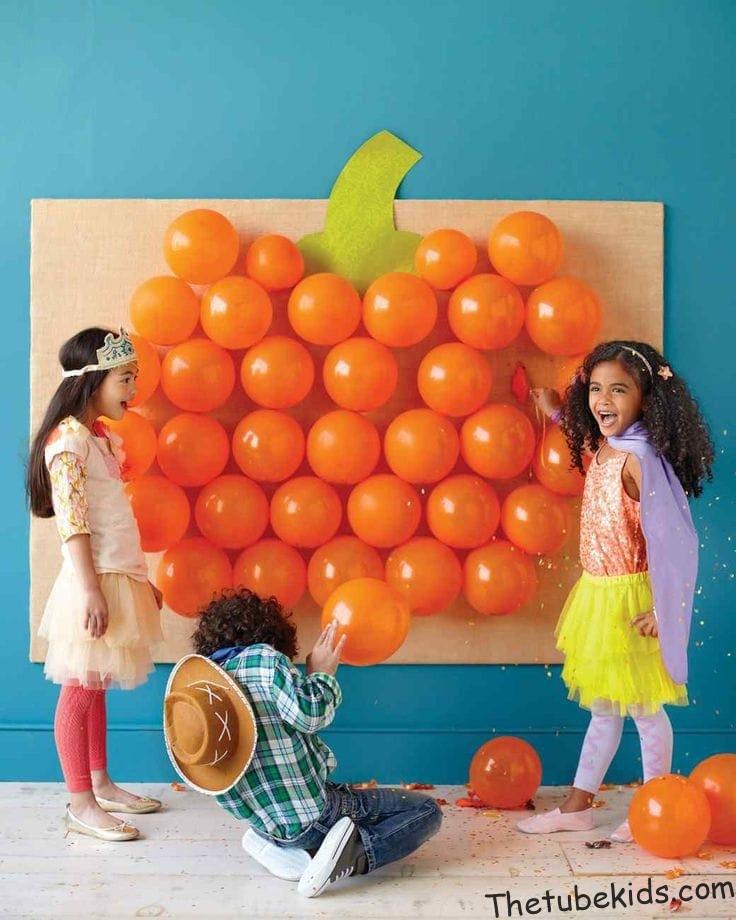 4. Frankenstein Bowling  (tin can bowling Halloween game)
This Halloween Game is budget-friendly and can be enjoyed by even the youngest party goer. Save your cans and either paint them or cover them with Halloween themed scrapbook paper. I'm not sure which is more fun, the actual bowling or decorating the cans!  If you don't have time to paint cans, this candy corn bowling set is an adorable option for a Halloween party game.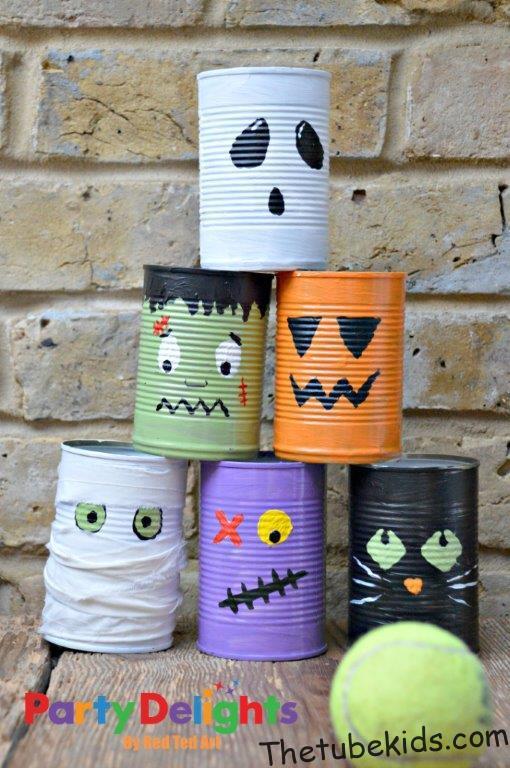 5. Marshmallow Toss Game 
Easy and fun- you can use mini marshmallows and paper cups or large marshmallows and some of those little tin buckets from the dollar store would be great too!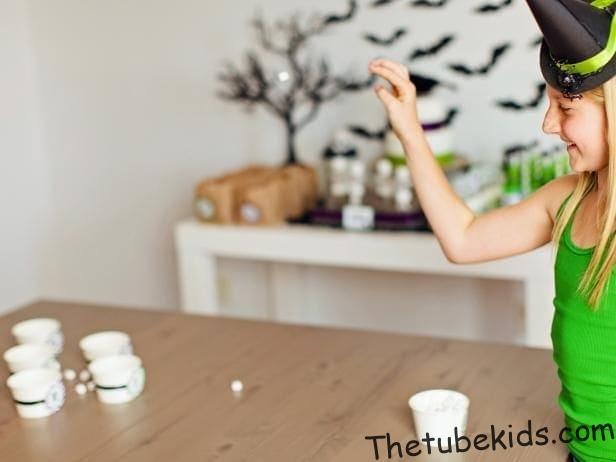 6. Kids Pumpkin Chuckin' Halloween Game (Halloween themed bean bag tossing games)
Another budget-friendly DIY Halloween Game for your party. This one is especially great for toddlers. It's easy to put together as the pumpkins are just toilet paper wrapped in felt and you can get the baskets from your local craft or Dollar Store! Get the details from B-Inspired Mama here.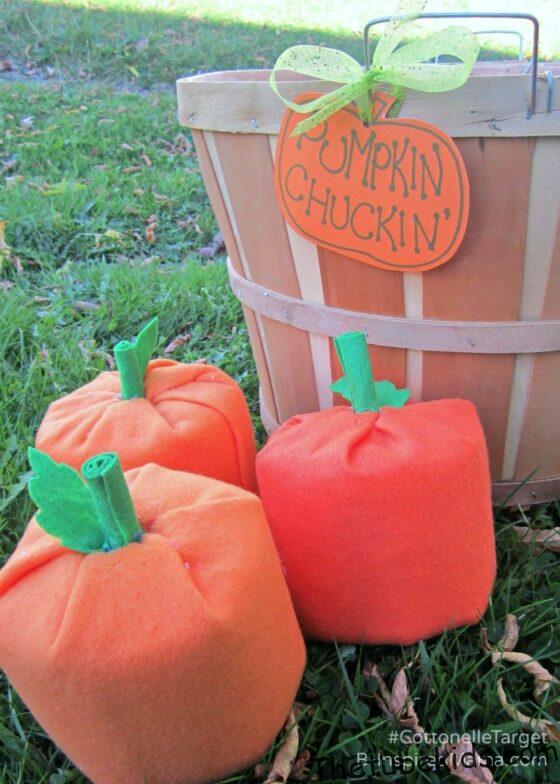 Possibly an even cuter Halloween bean bag-style tossing game is this Flying Spider Bean Bag game from Orange Bettie. See how to make the Spider Bean Bags here.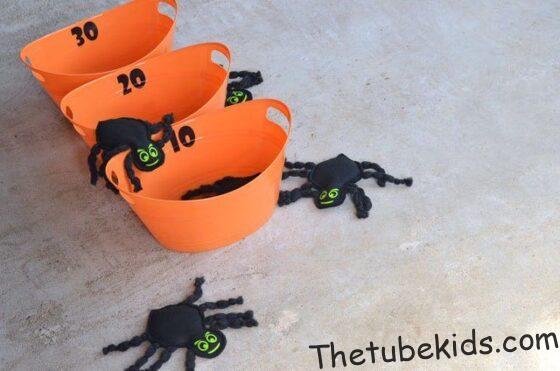 Looks like fun, but don't have time to DIY a Bean Bag tossing game?  Amazon has plenty of options for pre-filled bags to make your own tossing Halloween Game. 
7. Poke a Pumpkin Halloween Game
This looks like fun, similar to the balloon pop game!  Possibly even easier to put together, since instead of blowing up balloons, you're just wrapping orange tissue paper around a paper cup and securing with a rubber band.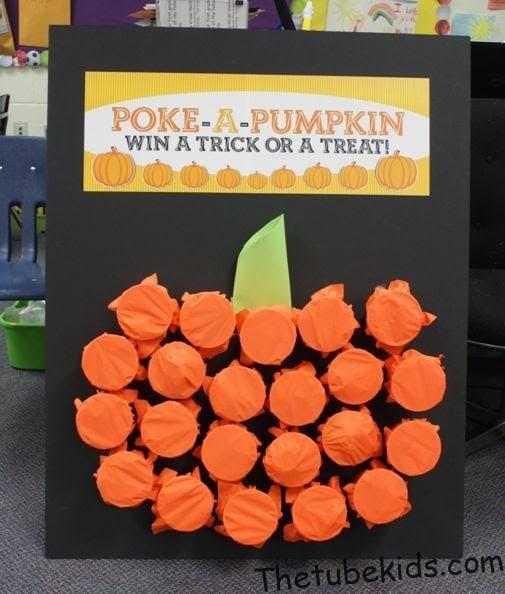 8. Pumpkin Patch Stomp – Kids love this game!
Any Halloween Party can be made so much better by popping a few balloons for prizes! Before blowing up the balloons, stuff with money, slips of paper, or squish-proof candy. Find 12 inch orange and black balloons here.  Another way to play the game is to blow up the same amount of different color balloons and the first person who pops all their colored balloons, wins!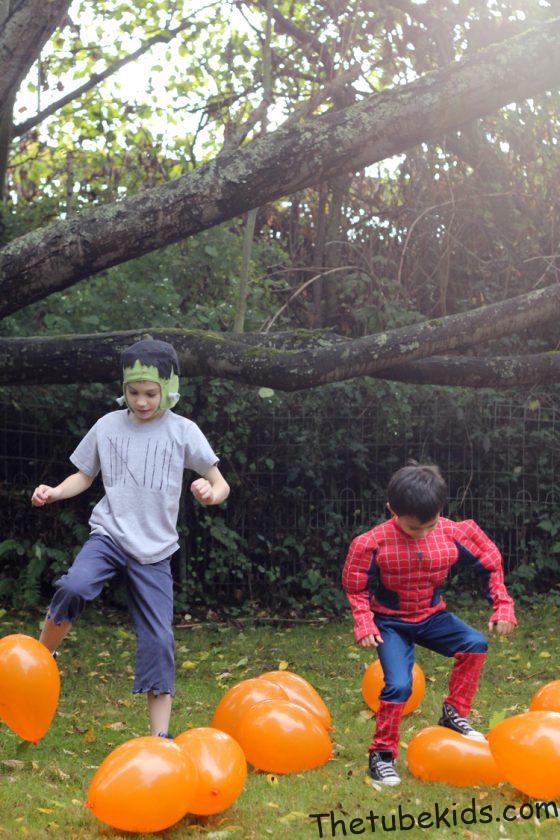 9. Pin the Tail on The Witch Cat (and other pin-the-tail Halloween Games)
You can never go wrong with a "pin the tail" type party game. Find one on Amazon here. Or make your own Pin the Tail on the Cat Halloween game as shown in this Harvest and Halloween Entertainment Book or How about Pin the face on the Pumpkin! This one made with tissue paper is especially cute! (Here is the link for a similar pin the nose on the pumpkin game from Amazon)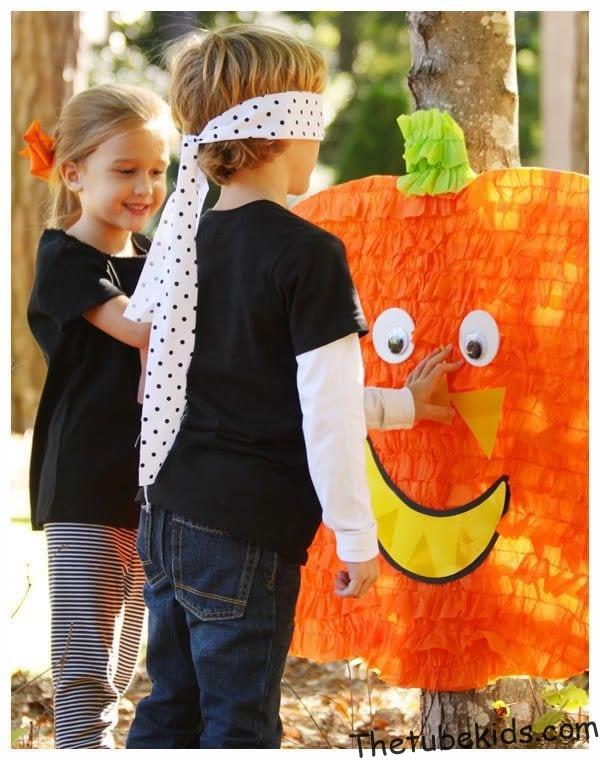 Or maybe, Pin the Bow on the Skeleton. Similar Pin the Bone Halloween Game found Amazon here. These "pin the tail" games are fairly easy to make, but you can find them at your local party store and online.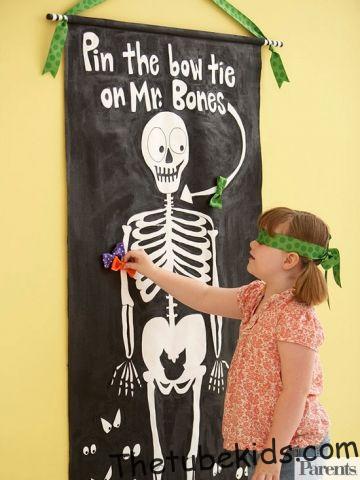 10. Halloween Bingo (Free Printable)
Halloween Bingo is always a hit, I especially love this for classroom Halloween parties or playdates. You can find tons of free printable Halloween Bingo cards online, but if you don't want to go to the hassle of printing cards for a large party, they are fairly inexpensive to purchase similar Bingo Cards here (Amazon)  or here (etsy.)
11. Feed the Monster Halloween Game
This fun ball toss game will keep all the kids entertained!  (Plus it is super budget-friendly as it is basically made out of a box!)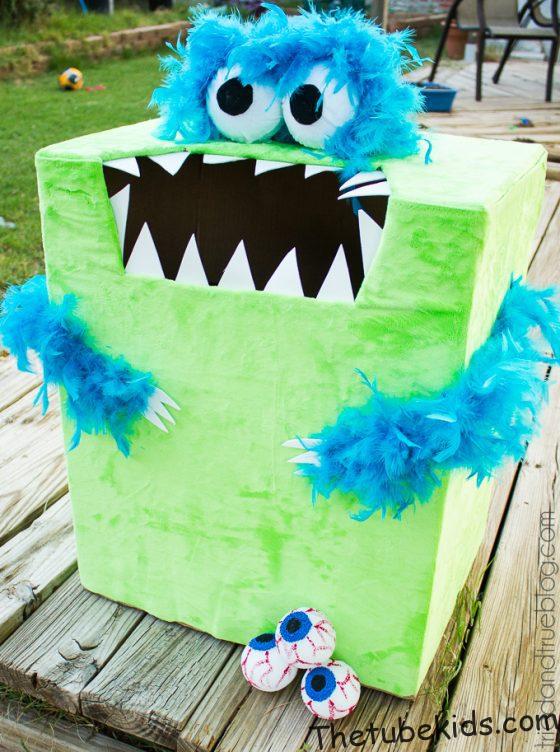 12. Jack o Lantern Bag Toss
Make your own out of a box or out of pumpkins or purchase a very similar game here. I found these pre-made bean bag toss games here and here.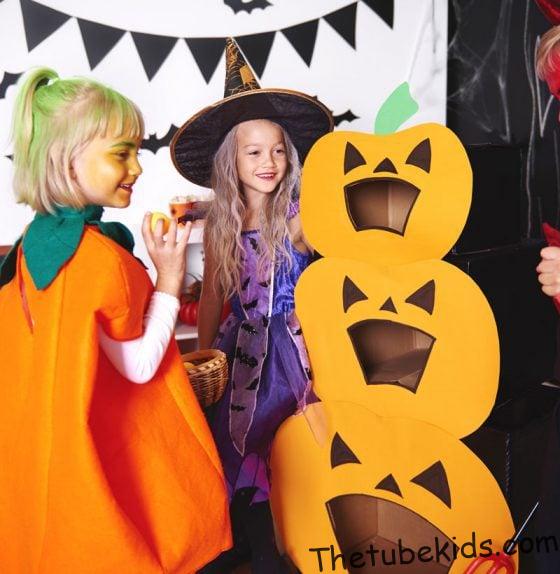 13. Candy Corn Guessing Game
And when the night is over, you can send the guest home with little treat bags full of candy corn!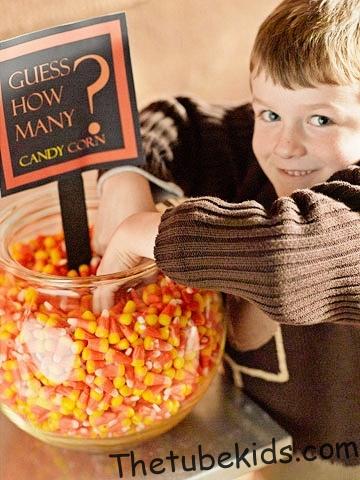 14. Halloween Face Painting
Who doesn't love getting their faces painted? No Halloween Game lineup is complete without a face painting station!  Even better if you can find a professional to paint faces according to the costumes. (I'm sure you've heard horror stories about unsafe face paint, so be sure to look for a set that is certified organic.  I like this set – it even comes with stencils for those of us with no painting skills.)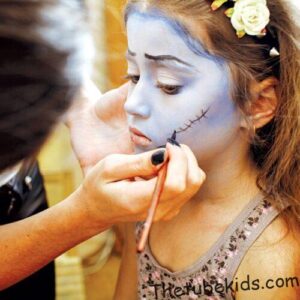 15. Don't forget the Halloween Pinata!
Nothing makes a Halloween Party more fun than the chance to break a pinata and be showered with EVEN MORE HALLOWEEN CANDY!!!  This Pinata is DIY, but if you don't want to make one, You can buy all sorts of different Halloween themed pinatas here.
16. Halloween Charades
Another great Halloween game idea? Charades with a Halloween theme!  So many laughs and so easy to play.  Grab the free Halloween Charades printable here.
17. DIY Treat Bag Decorating Station
Find tons of paper sacks and Halloween stickers (here and here) for the kids to make their own treat bags. Personally, having to put together party favor bags, after planning a party are the bane of my existence!  My solution? A DIY Halloween Treat Bag Station.  Make those kids fill their own treat bags, lol!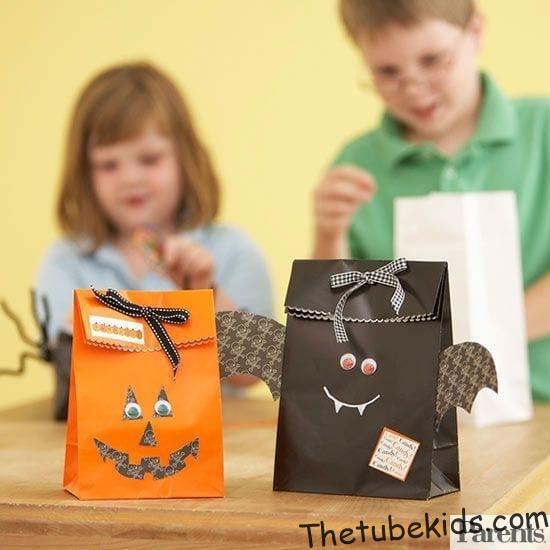 18. DIY Halloween Cookie Decorating Station
Decorating Cookies or Cupcakes is always fun!  All you need is icing, Halloween sprinkles, and maybe some eyeballs to get the party started!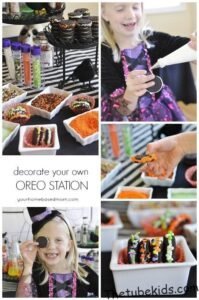 19. Halloween crafts station ideas:
Lollipop ghosts, Candy Corn necklace craft, and pumpkin decorating.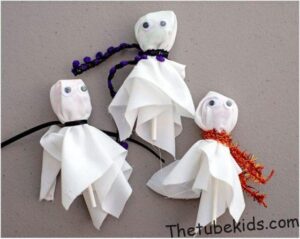 20. Witches Hat Ring Toss
Make your own Ring Toss game or find a similar game for sale on Amazon.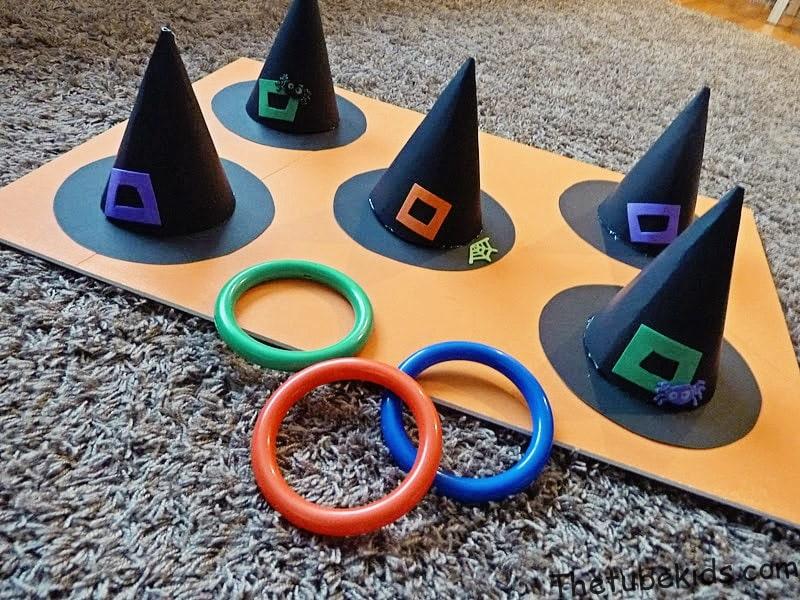 21. Pumpkin Mini Golf
This is the cutest Halloween Party Game for kids idea ever!  All you need is a huge carvable pumpkin, a piece of cardstock and these little foam putters.Don't want to make it?  Amazon sells a Pumpkin Put-Put Mini Golf Set that includes clubs, balls holes.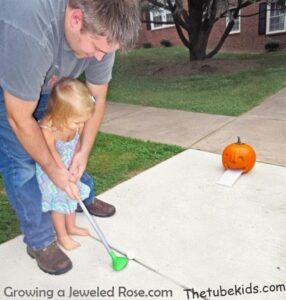 22. DIY Halloween Version of Twister:
Even if it is just a Halloween party for two, the kids will love this game.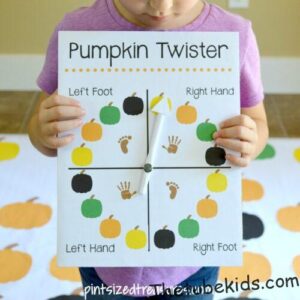 23. Egg and Spoon Race. 
We always include an egg race on our list of party games for kids! (this was our last birthday parties). It's always a hit, especially if you use real eggs and a Halloween version would be so much fun.  (amazon link to wooden spoon and egg set)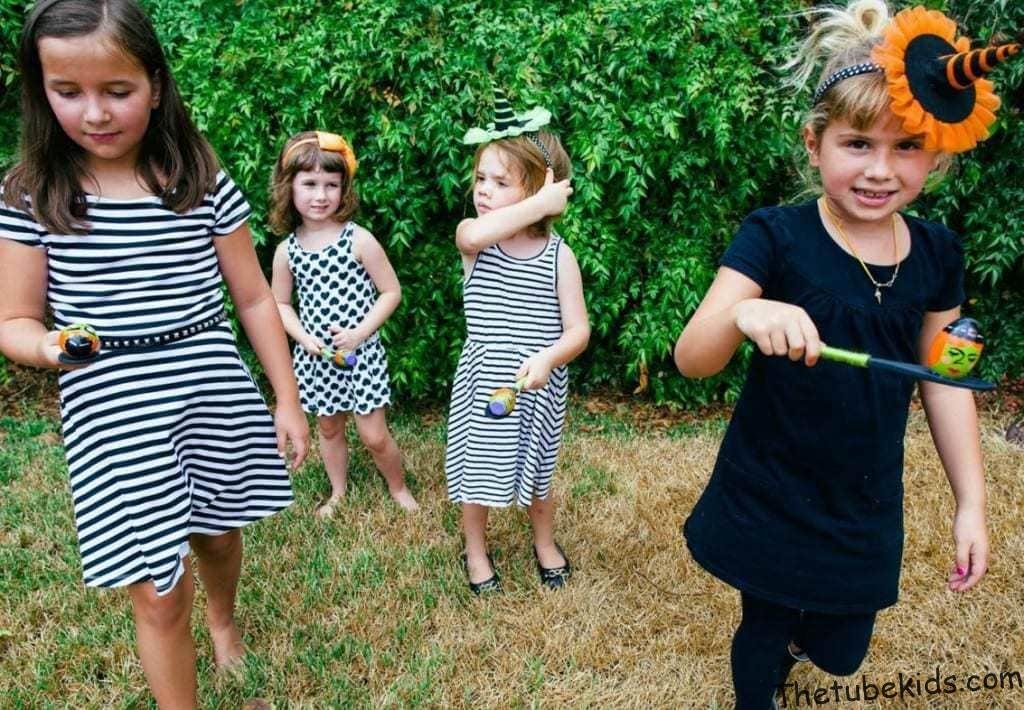 24. Halloween Scavenger Hunt
Who doesn't love a good Scavenger hunt?  This Halloween Party game is perfect for kids of all levels and Is easy to arrange!  Grab the free printable here.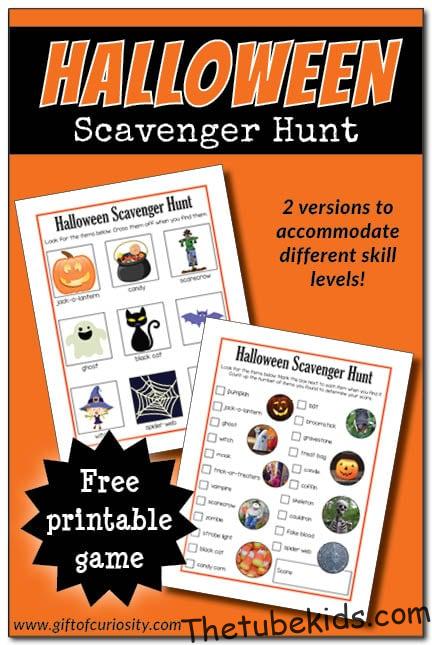 25. Pumpkin Decorating Station
And last but not least, we always have a pumpkin decorating station at our Halloween parties! In the last few years we have moved away from actual paint  (just too messy) and now lean towards stickers. Like these and these.